In this article, Lata Vishwanath discusses different aspects of silk production in India. The industry which has received funding from the convergence of various ministries has given sustainable livelihood to farmers, in particular to women of marginalized communities in the states of Jharkhand, Odisha, West Bengal, Chhattisgarh, Maharashtra, Andhra Pradesh, and Bihar by giving them jobs. She also says the Government of India has a special focus on the development of the silk industry in the Northeast States.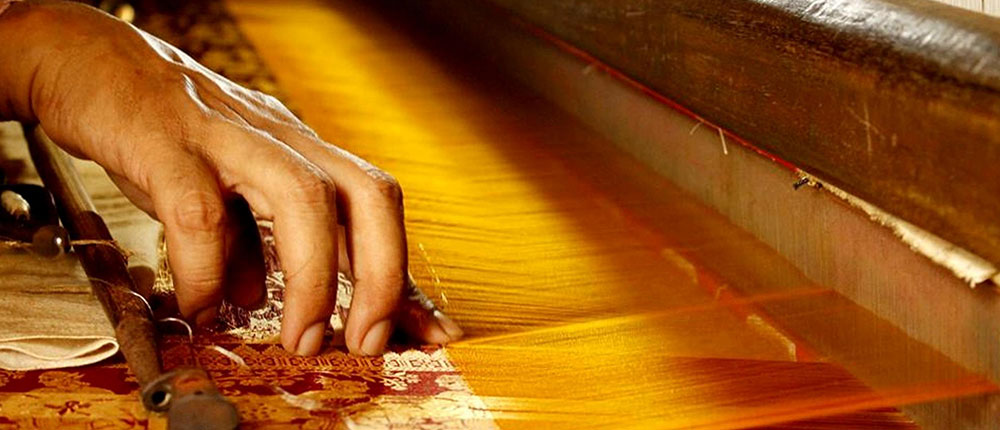 In Ramanagara, the famous silk town of India about 50 km from Bengaluru, a huge two-storey market building on Mysore–Bengaluru highway is a hive of activity in the morning hours. Known to be Asia's largest silk cocoon market, here the region's largest volume of trading of cocoons takes place with sericulturists coming from all over the state and from neighbouring states to get the best deal for their silk cocoons.
This market is part of the office of Deputy Director, Department of Sericulture, Karnataka State government, under whose supervision the auctioning process worth '10 crore takes place every day. About 10,000 sericulturists sell an average of 45,000 kg to 50,000 kg silk cocoons to the silk reelers and intermediaries through e-auctioning and the State earns about '1 lakh by way of tax from the transactions. What used to be a noisy market scene till a few years ago is now a reasonably quiet activity, thanks to the implementation of the State Government's IT initiative in the industry sector.
Other than a few days of the initial lockdown months, the pace of the activity of farmers and the reelers in the state did not slow down, and after a lull of loss with big drop in cocoon prices business is bouncing back to the original.
Silk Production in India
India is the second-largest producer of raw silk in the world after China. The country has a unique distinction of being the only country producing five different types of silks in the world. Mulberry silk is produced predominantly in southern states of Karnataka, Tamil Nadu, Telangana, and non-mulberry varieties (Vanya silk) such as Tussar is produced in Chhattisgarh, Jharkhand, Odisha, and West Bengal. Moga silk is specific to Assam state and Eri silk is grown in Meghalaya and Nagaland. Mulberry silk constitutes nearly 70 per cent of the total silk produced in India with Karnataka leading the production of mulberry silks. Realizing the huge employability potential spawning across the value chain of the silk industry, that could put the country on economic growth trajectory, the Government of India established the Central Silk Board (CSB) soon after the country attained Independence, and with it a series of policies. With low capital requirement and remunerative nature of production from rural on-farm and off-farm activities, and an ever growing culture bound domestic market, silk industry has been central to the socio-economic development of large agrarian population, providing employment to 9.4 million people in rural and semi-urban areas.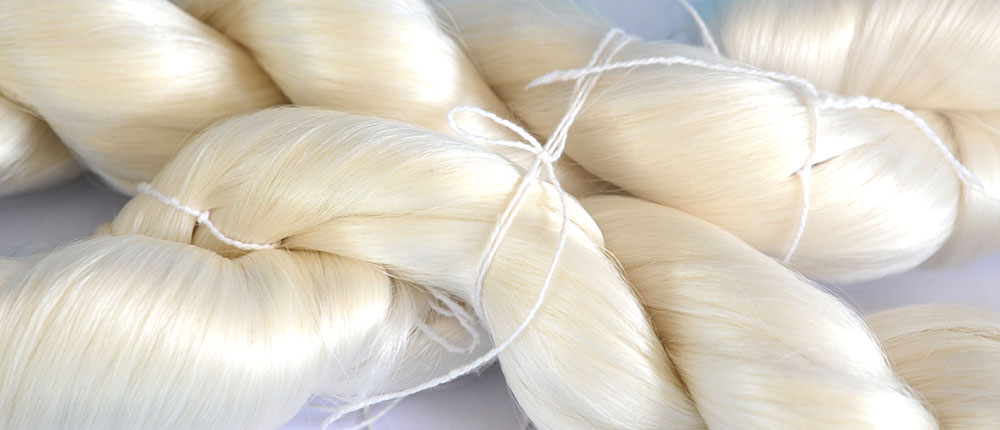 Unlike seasonal crops, sericulture can be done round the year and harvested as many as 5–6 times a year. With attractive prices for cocoons at '550 per kg in present day, sericulturists find it lucrative than growing any other cash crops. An estimated 35,820 MT of raw silk was produced during 2019–20, which fell by almost 30 per cent during the pandemic. Though part of the raw silk demand is met with imports, much of silk exports earnings is from silk garments, silk carpets and silk wastes, which totalled to '1466 crore in 2020–21.
The industry which has received funding from convergence of various ministries such as the Ministry of Rural development, Ministry of Textiles, and schemes such as Mahatma Gandhi National Rural Employment Guarantee Act (MGNREGA) and Seri-forestry has given sustainable livelihood to farmers, in particular to women of marginalized communities in the states of Jharkhand, Odisha, West Bengal, Chhattisgarh, Maharashtra, Andhra Pradesh and Bihar by way of 36,000 jobs. Around 36,154 farmers including 2497 women farmers were given help to raise 1521 hectares (ha) Tussar plantations in private wastelands. Under Special projects, 14,227 commercial seed rearers produced 2240 lakh of reeling cocoons. Further expansion of programme under the rural livelihood mission will include 35,000 women farmers.
Silk Production Process
Silk production is done in two phases, pre-cocoon phase and post cocoon phase. In the first phase, sericulturists do mulberry plantation and rear disease free silkworm seeds that are made to grow on mulberry leaves. Great care is taken towards the initial seeds and the mulberry plantation since the quality of silk depends on the leaves that are fed to the silkworms.
Silkworms go through four different stages of growth from eggs to moth and at caterpillar stage spin a cocoon around them. The spun thread excreted by the silk gland of the silkworm consists of primarily two proteins—fibroin, the fibre and sericin, the adhesive between cocoon and the fibre.
Reeling comes in the post cocoon phase. Within fifteen days of cocoon spinning, silk is reeled from the cocoons to obtain best quality silk. One roll of silk can be produced with 10 kg of cocoons. The reeled silk goes to weavers and made into finished products for the consumers' market.
Since centuries, reeling of silk threads is being done on reeling machines installed at homes of silk industrialists. A simple process of reeling involves cooking the cocoons in hot water and while the cocoons are still hot, the silk fibres are held with fingers and reeled into threads. With the advent of automation in all fronts of the industry, there are now high capacity automated reeling machines with high productivity and yield rate, needing minimum human intervention.